Corfu Town
Corfu Town itself is a contrasting combination of old and new that exist side by side in perfect harmony offering something for every taste. An abundance of sandy and pebbled beaches line the 200 km coastline, as does the clear blue water, ideal for swimming and water sports. Exploration of the island rewards visitors with some of the most spectacular scenery and breathtaking views. A trip into the heart of the islands villages offers insight into the traditional Corfiot village life.


The Old Town of Corfu
Located just 20 minutes or 14 kms from the hotel, Corfu Town (Kerkyra) is a principal port and the largest town in the Ionian islands. It is built between two Venetian castles, having its own unique atmosphere. It is a thriving mass of shops and businesses, set amongst a captivating and charming assortment of elegant buildings, churches, imposing fortresses and narrow alleyways leading to hidden squares. The tall buildings with the 'volta' (arches), the 'cantounia' (narrow flagstoned streets), the 'mouragia' (sea-walls) are showing all a clear Italian influence. The old Town of Corfu was announced as a Town of UNESCO in 2007, a fact of great significance.
Book Online
or Call +30 26610 90320
---
DON'T MISS
Corfu Old Town
Annaounced as a Town of UNESCO, a fact of great significance.
Day-cruise to Paxos & Antipaxos island shoud not be missed!
Gouvia Marina, the first privately owned marina in Greec
e
(
6 km
from the hotel)
World famous Kanoni & Mouse island (Pontikonisi) are perhaps the trademarks of the island
.
---
Why Corfu
Emerald island


•
Silver colored pine- and olive-grove
s
• An abundance of sandy and pebbled beaches line the 200 km coastline
•
Palaces of Achilleon and Mon Repo
s
• Italianate architecture, enchanting nightlife and fine cuisine
• Gorgeous Kommeno peninsula with 3 amazing Grecotel Resorts

---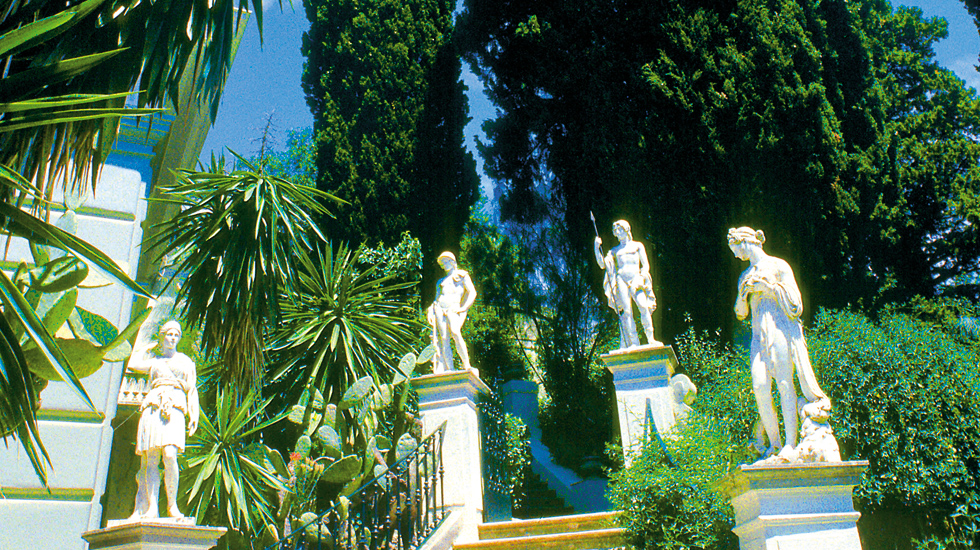 Achilleion Palace; the luxurious villa
of Princess Sissy

---