Daphnila Bay Body & Soul Elixirs
Specially designed extended programmes for a truly rare experience and pampering in exclusive settings. They offer both ancient and modern techniques to relieve body and soul.

ELIXIR OF LIFE 1 HOUR & 20΄/110€
Restores body energy, balances body aura, revitalises, moisturizes & improves skin firmness. An alchemist's secret from antiquity, which blends the four elements of life: water, air, earth & fire. The best-known goal of the alchemists was the transformation of common metals into gold. This exclusive skin therapy harnesses nature's most luxurious element, gold, and the delicate scents of wildflowers with incredible revitalizing effects that rejuvenate skin and boost vitality. Open up skin pores in the sauna to prepare body and mind for the ultimate pampering that follows. A gentle body exfoliation using a special aromatic peeling will improve body micro circulation followed by a rich golden body mask which restores smoothness, suppleness and body energy. A silky iridescent powder completes your treatment using the healing power of gold, copper and silver minerals combined with Artemisia flower extracts for deep moisturizing. In the magic of this heavenly treatment find the true Potion of Life!
ANCIENT SPIRIT ELIXIR 1 HOUR & 20΄/110€
Slimming, body toning, combats cellulite and obesity, revitalising, increases metabolic rate. Tones and revitalises the body, reduces stress, combats insomnia, dehydration, suitable for sunburn. This divine full-body Elixir was inspired by ancient beauty secrets. Relax body and mind in the sauna to open the pores. Discover the pleasure of a deep cleansing ritual leaving the skin polished and satiny soft. After an invigorating jet shower, fresh yoghurt is smoothed on to restore your pH balance and deeply hydrate skin. A fragrant bath in your private garden tub, with milk, honey or natural herbs, rejuvenates your senses. Feel the difference! The final application of an ultra-moisturizing cream rejuvenates the skin, leaving the complexion absolutely radiant.
DAPHNILA GARDEN ELIXIR 1 HOUR & 20΄/100€
Detoxifies, combats cellulite and obesity, revitalises, moisturises, tones and firms the skin, speeds up metabolic rate, anti-stress. This programme is wonderful for removing dead skin cells plus incredible mind-body effects, which will leave you invigorated and revitalized from head to toe. A short session in the sauna or steam bath will prepare you for the ultimate pampering treatment. A gentle body exfoliator packed with active ingredients starts the purification process followed by a Dead Sea mud body mask. Afterwards relax in the marble tube full of essential oils and marine salt extracts. Let your skin absorb all the vitamins and minerals, boosting cell regeneration, whilst you are cocooned in a comforting wrap. Following the sea polish, indulge in a relaxing aroma massage. The unique aromas envelop your body in a fresh, light scent while they relax your mind and restore your skin with lasting hydration.
Special Therapies
Including free use of sauna
PAYOT BODY HARMONY 1 HOUR & 20΄/110€
This wonderful harmonizing face and body treatment gently sloughs off dead cells from the skin's surface allowing nutrients to penetrate deep into its layers, leaving skin soft, firm, supple, and silky to the touch. Start with body exfoliation with a wonderful combination of fine marine mineral crystals and a semi-precious balm to make the skin smooth and velvety while relaxing body and mind. A special body wrap follows with a smooth-textured combination of pink mineral clay rich in trace elements, semi-precious balm and precious oils. Applied over the entire body to release accumulated tension and provide a feeling of well-being and absolute serenity. This excellent treatment is further enhanced with a short facial treatment, leaving the skin refreshed and hydrated.
SPECIAL CAVIAR THERAPY 1 HOUR & 20'/120€
Slimming, body toning, combats cellulite and obesity, revitalising, speeds up metabolic rate. This divine full-body Elixir was inspired by ancient beauty secrets. Relax body and mind in the sauna or hammam to open the pores. Sturgeon caviar is the secret ingredient in the scrub applied to exfoliate and cleanse your skin. After an invigorating jet shower, the ultra-moisturizing caviar body mask enriched with sea minerals tones and firms skin, leaving it smooth and radiant. A rich full body envelopment with caviar essential oils that follows restores your pH balance and deeply reconditions your skin. Caviar stimulates the regeneration of the skin, it possess antioxidant activity and protects again harmful UV damage.
CHOCOLATE SYMPHONY 1 HOUR & 20'/100€
A unique nourishing, stress-reducing body treatment. Performed with chocolate to invigorate and revitalize you. Chocolate, an antidote for premature ageing, leaves your skin smooth and replenished.
Beauty Salon
Manicure 30'/25€ • Pedicure 45'/35€
Shellac Manicure 45'/35€ • Shellac Pedicure 60'/45€
Spa Manicure 45'/35€ • Spa Pedicure 60'/45€
WAXING TREATMENTS
Face 10'/15€ • Legs and Bikini 35'/35€ • Lower legs 20'/25€ • Underarms or bikini 20'/20€ • Legs, Bikini and underarms 45'/40€ • Eyebrow shaping 10'/15€
Book Online
or Call +30 26610 90320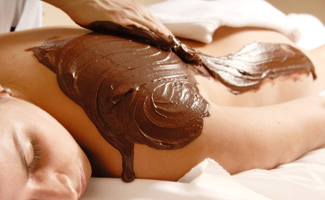 Chocolate Symphony
The substance of chocolate as an antidote for premature or accelerating ageing leaves your skin smooth and replenished.
---
Thalassotherapy
Aqua Elixir Thalasso Round, Hydromassage, Sauna & Hammam. Try a relaxing package of treatments features water cannons, jet-streamed water massage, and bubble seats for a full-body relaxation & help with problem areas.
---
also check
Daphnila Bay Massages & Therapies