Daphnila Bay Body & Soul Elixirs
ELIXIR OF LIFE, 1 HOUR & 20΄/110€
Restoring body energy, balancing body aura, revitalising, detoxifying, combats cellulite and obesity, speeds up metabolic rate, improves skin firmness. An alchemist's secret from Antiquity, which blends the four elements of life: water, air, earth & fire. The best known goal of the alchemists was the transmutation of common metals into gold. This exclusive skin therapy harnesses nature's most luxurious element-GOLD and the delicate scents of wild flowers from the plains and desert with incredible revitalizing effects that rejuvenate skin and boost vitality. Let skin pores open up in the sauna and prepare body and mind for the ultimate pampering that follows. Sink into the deep hydrotherapy tub and enjoy the effect as oxygen balls enhance the effect with fizzling bath salts and essential oils, while dozens of waters jets stream pressurized water to specific problems areas. A gentle body exfoliation using the healing power of gold, minerals, artemissia and passion flower to leave the body glowing. Smoothness, suppleness and body energy are restored with the application of a rich body mask. Finish with a light massage with replenishing golden powder and body cream for deep moisturizing, while sipping the Potion of Life!
ANCIENT SPIRIT ELIXIR, 1 HOUR & 20΄/110€
Slimming, body toning and revitalisation, antistress, combats insomnia, dehydration, suitable for sunburn. This divine full-body Elixir was inspired by ancient beauty secrets. Relax body and mind in the sauna to open the pores. Sea salt, used as a natural scrub, is applied to exfoliate and cleanse your skin. After an invigorating jet shower, rich full body sea mud envelopment restores your pH balance and deeply reconditions your skin. Caviar extract is the secret ingredient in the ultra-moisturizing body mask that tones and firms skin, leaving it smooth and radiant.
DAPHNILA GARDEN ELIXIR 1 HOUR & 20΄/105
€
Detoxifies, combats cellulite and obesity, revitalises, moisturises, tones and firms the skin, speeds up metabolic rate, anti-stress. Our Garden Elixir programme is a celebration of Flower and Sea gardens. It combines body detoxification using algae treatments and body exfoliation and nourishing using the aromas of Greece. A short session in the sauna will prepare you for the ultimate pampering treatment. A gentle body exfoliator from our herb garden starts the purification process, followed by an algae body mask. State-of-the-art equipment is used to ensure the hot air generation process. The sequence includes special in situ rinsing. Following the sea garden polish, cocoon in the outdoor water tub with sea salts, before indulging in a relaxing aroma massage using island herbs and Mediterranean flowers. A classic way for balancing your body with a choice of almond, olive or orange active ingredients, according to skin type and personal preference.
Special Therapies
PAYOT BODY HARMONY 1 HOUR & 20΄/110€
This wonderful harmonizing treatment gently sloughs off dead cells from the skin's
surface allowing nutrients to penetrate deep into its layers, leaving skin soft, firm, supple, and silky to the touch. Start with body exfoliation with a wonderful combination of Fine Marine Mineral Crystals and a Semi-precious Balm to make the skin smooth and velvety while relaxing body and mind. A special body wrap follows with a smooth-textured combination of Pink Mineral Clay rich in trace elements, semi-precious Rodochrosite Balm and Precious Oils. Applied over the entire body to release accumulated tension and provide a feeling of well-being and absolute serenity.
BODY CORRECTIVE THERAPY, 80΄/120€
Luxurious treatment for body and face which is focused in the release of toxins and local accumulated water for a fine figure. Advanced body exfoliation with a splendid combination of Fine Marine Mineral Crystals and Semi-Precious Balm that leave the skin clen, soft and smooth. A special body wrap follows with a combination of Green Clay, semi-precious Balm with Malachite extracts and Precious Oils of Grapefruit and Orange for full body application. Face musk with Clay to purify the skin and eliminate imperfections. Restores luminous color and smoothens the skin.
CAVIAR BODY THERAPY, 80' / 120€
The extract of caviar is the secret ingredient in this ultra-nourishing, deep moisturising body treatment that tones and firms the skin, leaving it smooth and radiant. Nutrient-rich caviar has a cell format similar to human skin so that the vitamins and minerals are easily absorbed, enhancing cell regeneration.

CHOCOLATE SYMPHONY, 1 HOUR & 20΄/100€
A unique nourishing, stress-reducing body and facial treatment performed with chocolate to invigorate and revitalize you from head to toe. The substance of chocolate as an antidote for premature or accelerating ageing leaves your skin smooth and replenished.
Book Online
or Call +30 26610 90320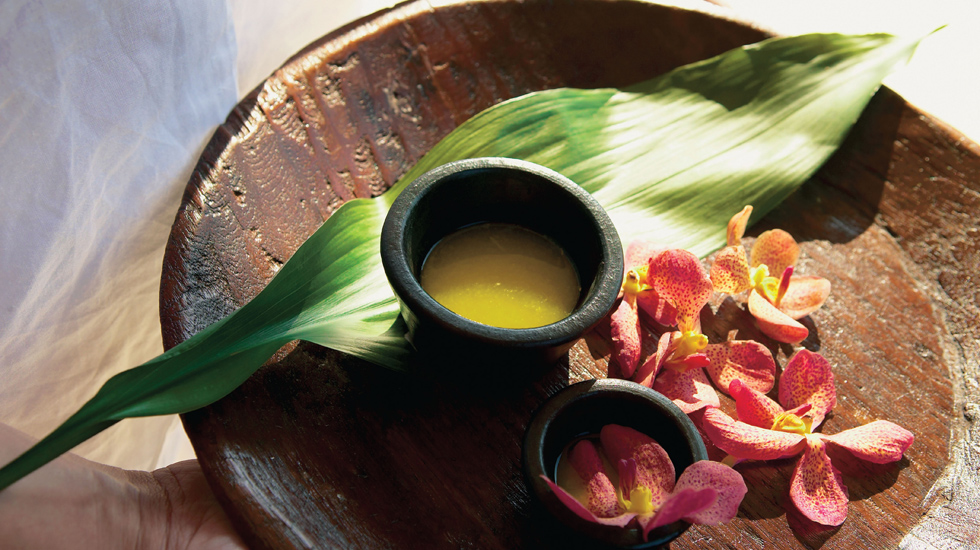 Combine your booking with Spa therapies!
Book your room online and Save up to 30% on the "Garden Elixir" & "Hot Chocolate" treatment. Contact the Elixir ThalassoSpa: +30 26610 90320 or email at: reservations.db@grecotel.com
---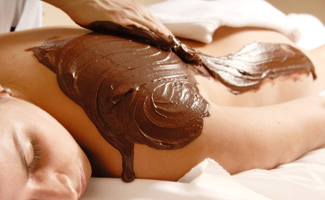 Hot Chocolate
The substance of chocolate as an antidote for premature or accelerating ageing leaves your skin smooth and replenished.
---
Thalassotherapy
Aqua Elixir Thalasso Round, Hydromassage, Sauna & Hammam. Try a relaxing package of treatments features water cannons, jet-streamed water massage, and bubble seats for a full-body relaxation & help with problem areas.
---
also check
Daphnila Bay Massage & Therapies