Daphnila Bay Massages & Therapies
Harmony to body and mind...

ELIXIR AROMA MASSAGE 50΄/75€
Light body-brushing with pure essential oil performs a natural exfoliating scrub. The lavish body massage that follows concentrates on soothing away tiredness, stress and alleviating tension, inducing relaxation to the body and mind.
CORFU MASSAGE 60΄/85€
Inspired by the grooming rituals of the Classical-era beauties. This treatment consists of a total body aromatherapy, head and face massage, reflexology on feet/hands/ears, and Shiatsu (trigger points).
AROMA MASSAGE 50΄/70€
A complete body treatment using essential oils made from plant and herb extracts. The oils have either detoxifying, stimulating or relaxing properties chosen to suit individual needs. The aroma from the oils has a therapeutic effect, inducing a feeling of well-being.
RELAX MASSAGE 30΄/45€, 50΄/65€
Body massage performed with special combination of calming oils to relieve tension from your back, neck and shoulders. This wonderful soothing treatment has amazing relaxation and calming properties and improves the nervous system.
LYMPHATIC MASSAGE 50'/70€
A detoxifying treatment performed specifically on legs. It activates the lymph glands to flush out liquids, thus making the muscle tissue firmer. Ideal for combatting cellulite and stimulating your body systems.
HEAD & FACE MASSAGE 20΄/50€
This relaxing massage performed with essential oils on the pressure points of the neck, scalp, ears and face concentrates on soothing away tiredness, stress and tension. A wonderful treatment for headaches, stiff and tired muscles as well as obtaining harmony to body and mind.
Book Online
or Call +30 26610 90320
Must Try
Daphnila Garden Elixir: Inspired by the grooming rituals of the Classical-era beauties.
Elixir of Life: Restoring body energy, balancing body aura, revitalizing & improving skin firmness.
---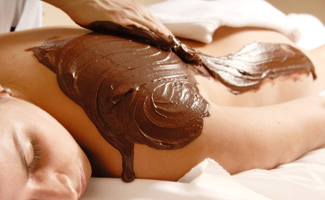 Chocolate Symphony
The substance of chocolate as an antidote for premature or accelerating ageing leaves your skin smooth and replenished.
---
Thalassotherapy
Aqua Elixir Thalasso Round, Hydromassage, Sauna & Hammam. Try a relaxing package of treatments features water cannons, jet-streamed water massage, and bubble seats for a full-body relaxation & help with problem areas.
---
also check
Daphnila Bay Body & Soul Elixirs