Daphnila Bay Thalassotherapy
AQUA ELIXIR THALASSO POOL, JACUZZI, SAUNA & HAMMAM 1 DAY/15€, 3 DAYS/35€, 6 DAYS/55€
Pamper yourself with this relaxing package of treatments in a customized sequence that features water cannons, jet water massage and bubble seats for an effective combination of full-body relaxation and help with problem areas. Improved skin tone and circulation are just two of the rejuvenating effects of thalassotherapy. The thalassotherapy programme is effective in relieving stress, combating insomnia, relieving mental fatigue and easing muscular and joint pain.
SEAWEED WRAP 30΄/40€
Mineral-rich seaweed is applied in a body wrap in a special treatment that has proved effective in aiding weight loss, toning and firming tissue and fighting stress. This treatment is especially effective in helping get rid of cellulite.
SEA MUD WRAP 30΄/40€
A full body sea mud wrap that allows the nourishing elements penetrate the skin. Sea mud wraps improve skin tone and relieve sore muscles and joints.
Tip:
Ask the spa counselors for underwater resistance equipment for your arms and legs. The thalassotherapy program is effective for relieving stress, combating insomnia, relieving mental fatigue, and easing muscular and joint pain.
Book Online
or Call +30 26610 90320
Must Try
Elixir of Life
: Restoring body energy, balancing body aura, revitalizing & improving skin firmness
.
Corfu Massage
: I
nspired by the grooming rituals of the Classical-era beauties
.
---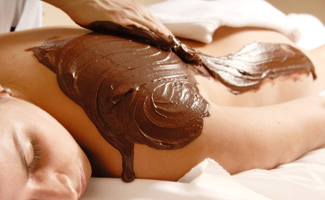 Chocolate Symphony
A unique nourishing, stress-reducing body and facial treatment performed with chocolate to invigorate and revitalize you from head to toe. The substance of chocolate as an antidote for premature or accelerating ageing leaves your skin smooth and replenished.
---